On a bulletin board in my closet, there is a card that accompanied these flowers for Valentine's Day.
I will not cheapen its beautiful message (or elicit awkwardness) by relaying it. 🙂 But it was sweet, and perfect, and I will keep it forever.  Because it came from a loving, living, breathing, healthy man who holds my heart.
In numerous recent conversations, we have contemplated with awe the ordeal that now feels like a dream, or a trip to an alternate universe.
It was as if the heavy curtain of normalcy was lifted for a few months, and passage was granted–forced–into a world thickly clogged with hospitals, sickness, uncertainty, struggle, and tears, and where that wrenching hollowness in the pit of your stomach reminds you that your life is but a feeble flicker and could be snuffed out any minute. Funny…about nine months ago, I had thought that curtain was a concrete wall. Not so.
Even as I write this, it occurs to me that in a moment, we could be catapulted back into that world, but by the grace of God.
What is it that compels me to trust the curtain and its predictable pattern more than the everlasting Arms that hung it? My comfortable, expected daily existence may vanish in a moment, but He is the same yesterday, today, and forever.
Here I must stop and lift my hands to thank Him once again for His grace. Come what may tomorrow, His plan is perfect, He is our hiding place, our place of rest and peace, and there is no dark crevice in the rough terrain of human experience where He cannot be found. "Though I make my bed in hell, thou art there," David said.
Tonight, in the midst of evening routine and preoccupied thoughts about tomorrow, I glanced at that little card and was struck by the unfathomable mercy of my God. He has kept us, protected us, provided for us, healed our broken hearts, and supplied supernatural hope, strength, peace… I will not forget His benefits!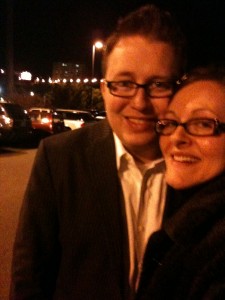 I am not a widow, but by the grace of God.
My husband is not confined to a wheelchair, or walker, or cane, and possesses all his faculties (aside from hearing loss on his right side), but by the grace of God.
My children have a father to teach them how to catch a football, but by the grace of God.
He bears in his body the scars. Evidence of God's mercy upon those for whom life is a vapor, a passing shadow.
So now I run back to the Healer and cast at His feet these flowers that, though a bit wilted by now, testify to His unspeakable grace. He has kept us. His mercy is everlasting, and His truth endures forever.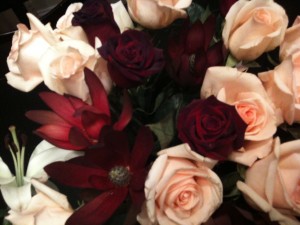 Lord, I will not fail to give You the glory for this miraculous story we have lived.
I will repeat it, recall it, remember it. I will not forget Your design, Your plan, Your perfect timing. And whatever tomorrow brings, I will remember that it is You who are First and Last, Author and Finisher, and Your promises do not fail. I rest in you tonight, thankful.
"Thou wilt keep him in perfect peace whose mind is stayed on thee: because he trusteth in thee." (Isaiah 26:3)